In your hot tub, do you struggle with any of the following: 
a. Unsightly water line build up
b. Itchy, dry skin after using your hot tub
c. Excessive foaming
d. All of the above
If you've answered yes to any (or all of these,) you are the perfect candidate to try Spa Marvel, risk free.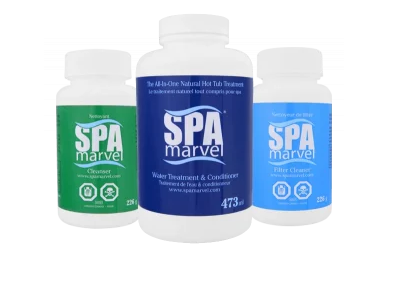 Benefits of using Spa Marvel
No more scum lines.
No more chemical hassles.
No more hot tub rash.
Gentle to skin and hair.
Conditions water for sensitive skin. People with eczema and psoriasis love using Spa Marvel as this hot tub water treatment actually improves their condition rather than irritate and dry their skin the way chemicals can.
Helps to maintain pH and alkalinity.
Prevents scale buildup from occurring and descales deep-seated buildup that can accumulate over time from regular use, especially in hard-water areas, resulting in stronger jets, quieter pumps, more efficient heaters, and overall greater longevity of your equipment.
Eliminates foam in a few hours without the use of defoaming agents.
Water so soft & odourless you won´t feel the need to shower after using your spa & hot tub.
100% guaranteed!
Just empty one bottle of Spa Marvel Hot Tub Water Treatment & Conditioner into your spa or hot tub water and enjoy the natural benefits for up to three months. 
---
HOW TO MAINTAIN YOUR HOT TUB WITH SPA MARVEL
Maintain chlorine levels to between 3-5ppm
Maintain Bromine levels to between 2-4ppm
Ensure that alkalinity and pH are within acceptable ranges. Adjust if necessary.
Rinse debris from filters.
Clean filters using Spa Marvel Filter Cleaner. Properly cleaned filters are vital to the success of maintaining your spa water. After soaking the filters in the Filter Cleaner solution, it is critical that the debris is thoroughly removed from the pleats of the filter by using a strong stream of fresh water. Follow this link for more detailed instructions on how to properly clean filters. How To Clean Your Spa Filter With Spa Marvel
Reinstall the clean filter as per your professional spa retailer's instructions.
Replace your filter as per your professional spa retailer's direction
Check out what people have been saying about Spa Marvel!