Not sure what size Big Green Egg to get? The size of the Big Green Egg you should buy depends on a few factors, such as the number of people you will be cooking for and the amount of outdoor space you have available.
The most popular size of Big Green Egg is the Large model, which has a cooking surface of 18.25 inches in diameter and is capable of cooking for a family of four. This size is versatile enough to accommodate a wide range of cooking styles, from grilling to smoking to baking.
If you need to cook for a larger group, you might want to consider the XLarge or 2XL models, which have cooking surfaces of 24 inches and 29 inches in diameter, respectively. These sizes are better suited for entertaining and larger gatherings.
If you have limited outdoor space or will primarily be using your Big Green Egg for cooking for yourself or one other person, the Medium model with a 15-inch diameter cooking surface might be a good choice.
Ultimately, the size of the Big Green Egg you choose depends on your personal needs and preferences. I would recommend evaluating your cooking needs and available space to determine which size is right for you.
Take a look at each size to help determine the best Egg for you and your family.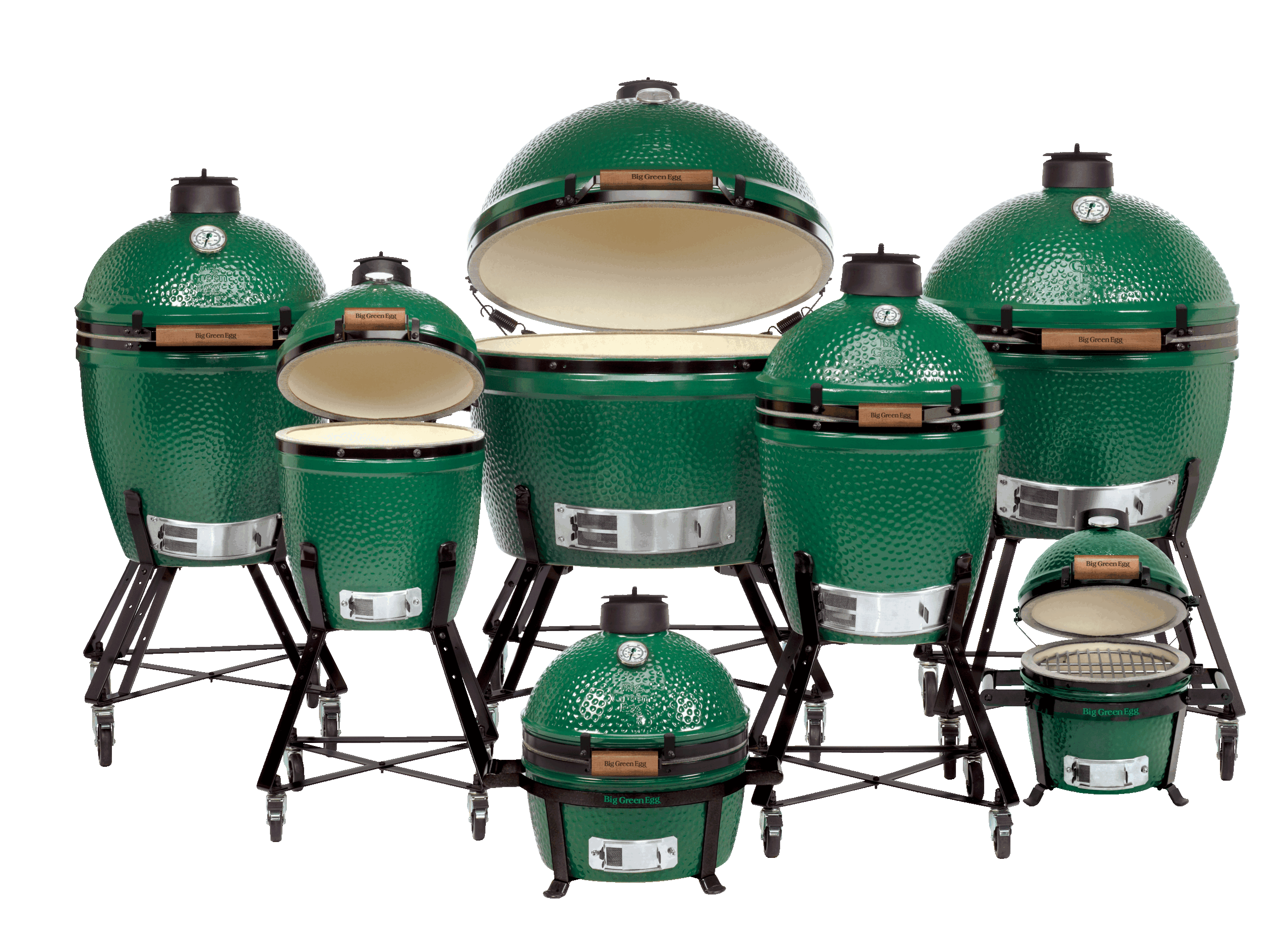 The Mini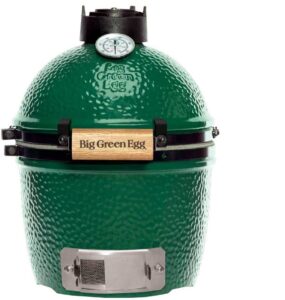 A MINI Big Green Egg is the perfect solution for picnics and tailgating when you want to take The Ultimate Cooking Experience with you! It is also a popular size for grilling on apartment balconies or camping and boating. Leave those propane canisters at home and enjoy your favorite campfire meal on the MINI!
Grid Diameter: 10 in / 25 cm
Cooking Area: 79 sq in / 507 sq cm
Weight: 39 lbs / 18 kgs
The Mini EGG can cook
2 chicken breasts
2 pork chops
1 steak
The MiniMax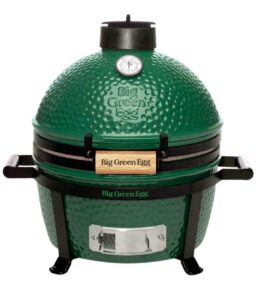 The MiniMax Big Green Egg is proof that great things come in small packages. This EGG is the first to arrive with its own transportation in the form of a sturdy, easy to grip Carrier! The MiniMax is perfect for camping, poolside and tailgating at the ballgame. MiniMax is built to perform and is ready to travel to wherever your culinary interests take you!
Opening the MiniMax dome reveals a stainless steel cooking grid measuring 13 inches/33 cm in diameter for a whopping 133 square inches/855 cm2 of cooking area … all within a convenient 19.5 inch/50 cm height! And, of course, MiniMax is constructed from the same ultra high-quality ceramics as the other six EGG sizes, and comes with the same best-in-class limited lifetime warranty. The MiniMax Big Green Egg arrives in one complete package – including a sturdy, easy to grip Carrier.
Grid Diameter: 13 in / 33 cm
Cooking Area: 133 sq in / 856 sq cm
Height: 19.5 in / 50 cm
Weight: 76 lbs / 35 kgs
The MiniMax EGG can cook
12-pound turkey
4 burgers
1 chicken vertically
2 steaks
1 rack of ribs
---
The Small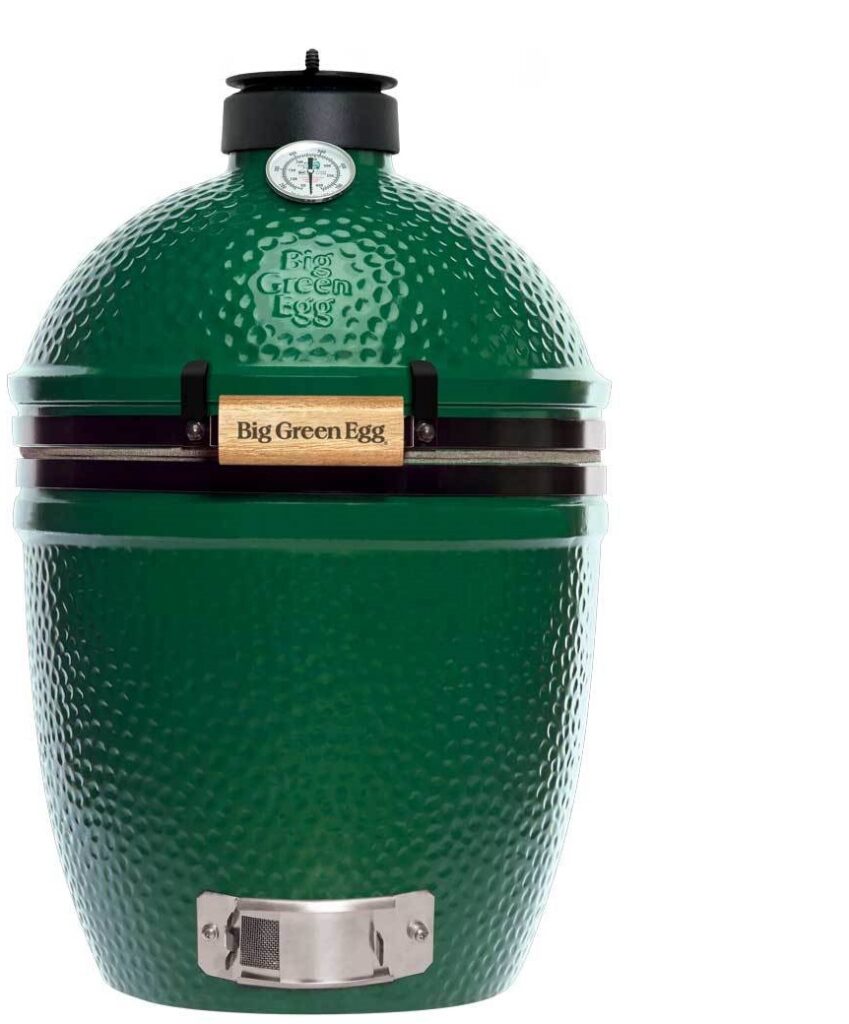 Big Flavor in a compact package! The Small Big Green Egg is an easy fit for smaller patios and balconies. It is able to prepare four burgers or chicken breasts at a time. The Small Big Green Egg is often used as a companion for the 
2XLarge
, 
XLarge
, 
Large
 or 
Medium
EGG to allow the preparation of several courses at once. It is perfect for restaurants seeking the performance of an EGG in a size to fit a commercial kitchen.
Grid Diameter: 13 in / 33 cm
Cooking Area: 133 sq in / 856 sq cm
Weight: 80 lbs / 36 kgs
The Small EGG can cook
12-pound turkey
4 burgers
1 chicken vertically
2 steaks
1 rack of ribs
---
The Medium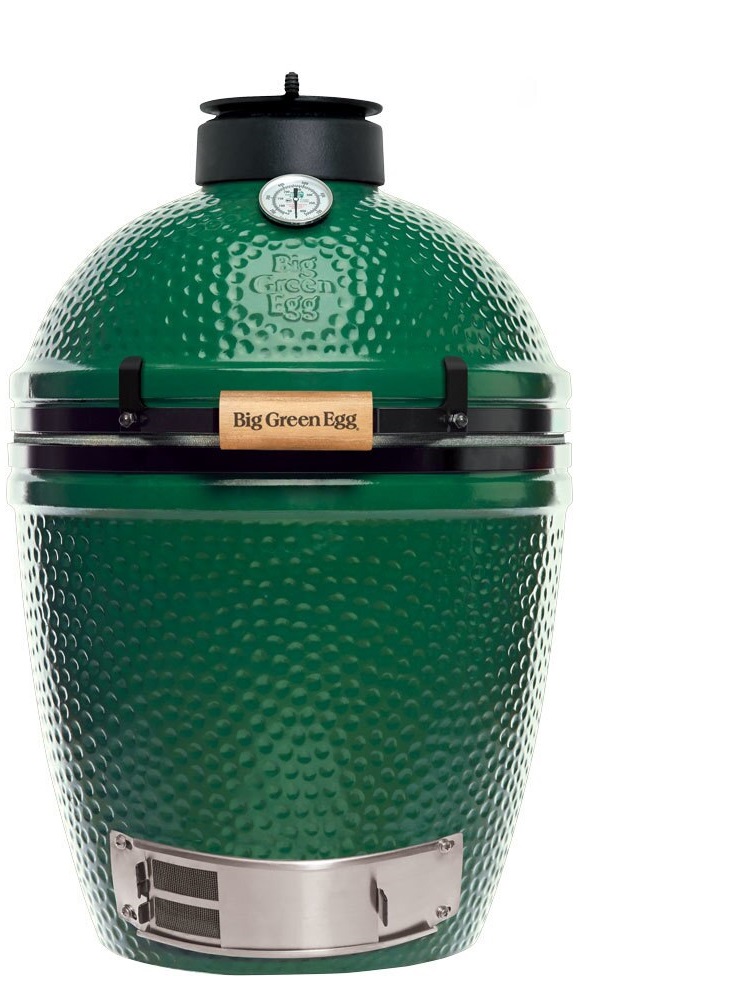 Happiness in a smaller package! The Medium Big Green Egg is perfectly sized for smaller families and couples. It accommodates all the most popular EGGcessories like the convEGGtor and Pizza & Baking Stone. You can get all the famous Big Green Egg versatility and efficiency with plenty of cooking area to accommodate a cookout of four steaks or two whole chickens.
Grid Diameter: 15 in / 38 cm
Cooking Area: 177 sq in / 1140 sq cm
Weight: 114 lbs / 52 kgs
The Medium EGG can cook
18-pound turkey
6 burgers
3 chickens vertically
4 steaks
4 racks of ribs vertically
---
The Large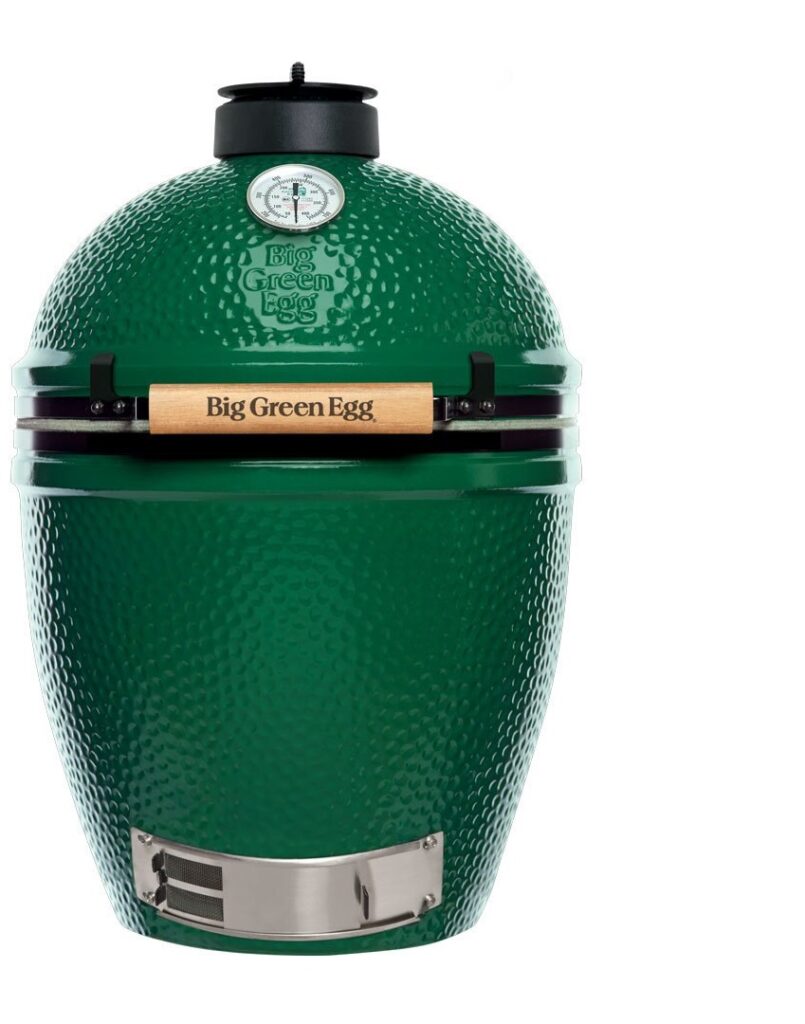 The Large EGG is the most popular size and a favorite to handle the cooking needs of most families and gatherings of friends. Accommodates all EGGcessories for baking, roasting or smoking. It's versatile enough for weekend cookouts or pizza parties, large enough for eight steaks at once, and efficient enough for an impromptu meatloaf for two!
Grid Diameter: 18.25 in / 46 cm
Cooking Area: 262 sq in / 1688 sq cm
Weight: 162 lbs / 73 kgs
The Large EGG can cook
20-pound turkeys
12 burgers
6 chickens vertically
8 steaks
7 racks of ribs vertically
---
The XLarge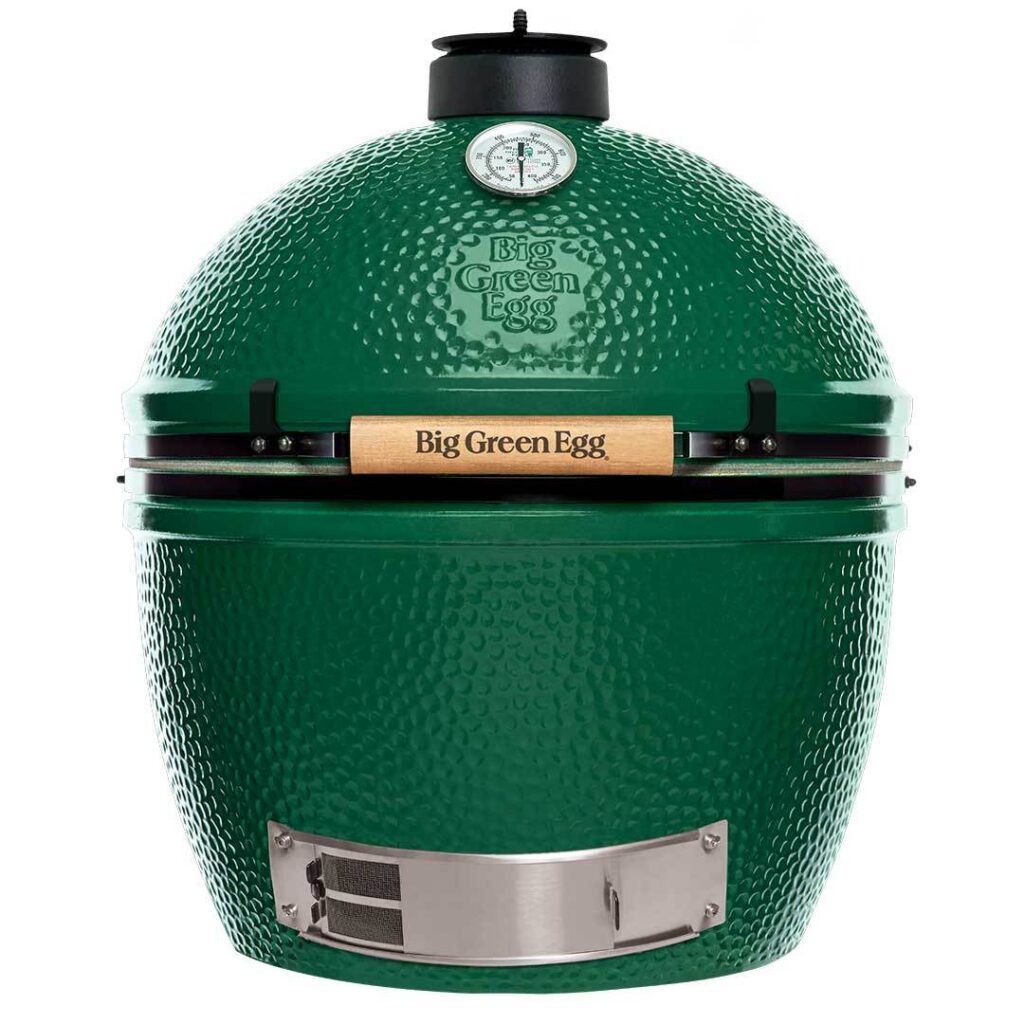 The XLarge Big Green Egg provides a cooking area that can easily accommodate meals for large families and cookouts with all your friends. You can also efficiently prepare several meals over the coals at once. Ready to serve up twelve racks of ribs, twenty-four burgers or a couple of holiday turkeys with all the trimmings? No problem!
Grid Diameter: 24 in / 61 cm
Cooking Area: 452 sq in / 2919 sq cm
Weight: 219 lbs / 99 kgs
The XLarge EGG can cook
2 20-pound turkeys
24 burgers
11 whole chickens
12 steaks
12 racks of ribs vertically
---
The 2XLarge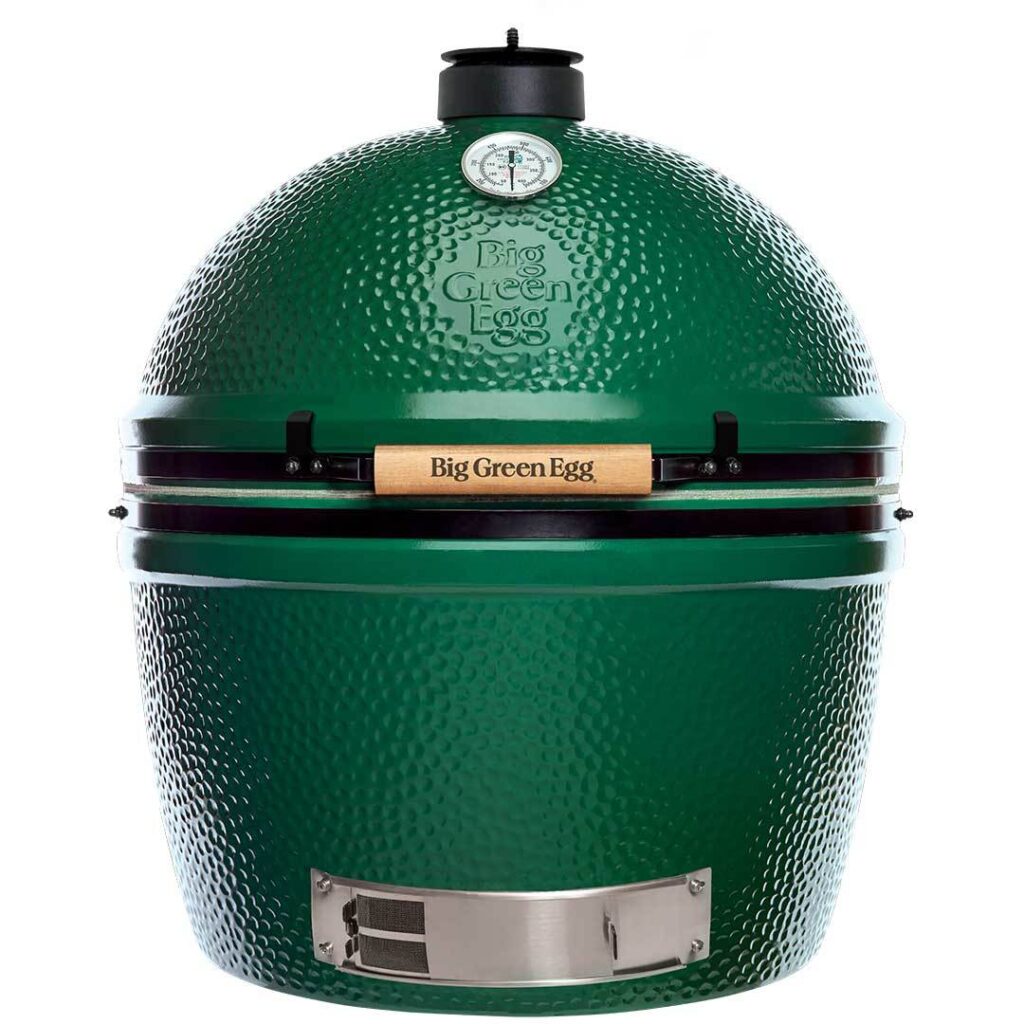 The Biggest Green Egg of them all, the unrivaled 2XL EGG can easily handle your family reunion or cookouts with large groups – and is more than large enough to satisfy restaurant and catering needs. You'll need to gather a crowd to tackle all of the ribs, steaks, and burgers this EGG can handle … all at once! You can even roast a suckling pig … explore all the culinary possibilities with the new 2XL!
Grid Diameter: 29 in / 74 cm
Cooking Area: 672 sq in / 4336 sq cm
Weight: 375 lbs / 170 kg
The 2XL EGG can cook:
35-40 burgers
14-16 whole chickens
18-20 steaks
20 mouth-watering racks of rib vertically
1 perfectly crisp suckling pig