REVERSE SEARED PRIME RIB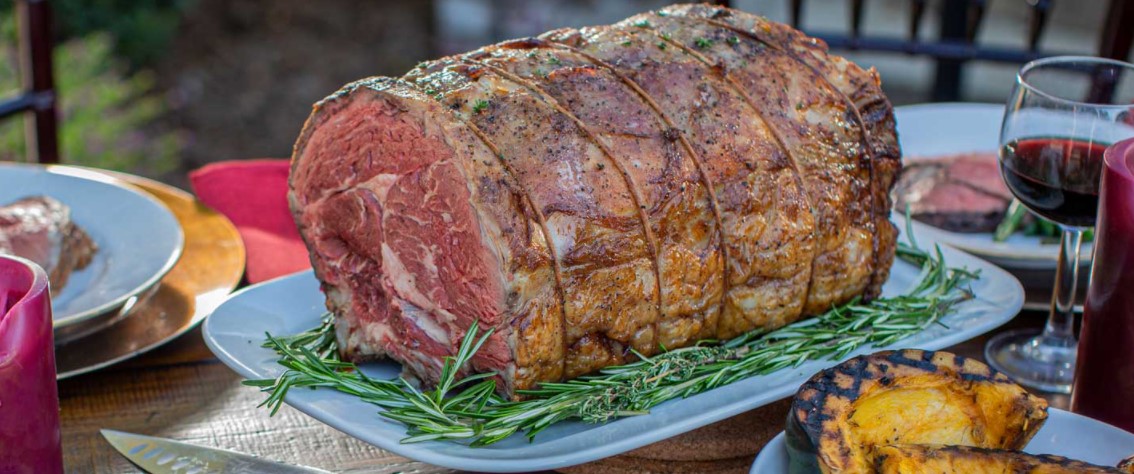 Ingredients
1 whole (or half) bone-in ribeye loin
Big Green Egg Steakhouse Seasoning
Dijon mustard
Instructions
Equipment
Big Green Egg Rectangular Drip Pan
convEGGtor
Big Green Egg Rib and Roast Rack
Method
Set your EGG up for indirect cooking with the convEGGtor at 350ºF.
Rinse the entire loin, and pat dry. Trim all unneeded excess fat (just clean it up) and silver skin from the meat. If you have the bones, tie them back to the meat and carefully trim them up as well removing fat, excess silver skin, etc.
Coat the entire loin with Dijon mustard, and apply a liberal amount of Big Green Egg Steakhouse seasoning all over the loin.
Put the loin on the EGG and cook for 30 minutes per lbs. Once the Internal temperature hits 120ºF-130ºF remove it from the EGG.
Set your EGG up for direct cooking without the convEGGtor at 500ºF.
Sear the Prime Rib on all sides to get a good crust. Remove from heat, and let rest for a minimum of 10 minutes.
Slice 1 ½ inch slices, and serve with a horseradish sauce and/or au jus!
Horseradish Sauce Ingredients
½ cup sour cream
2 tbsp prepared horseradish
1 tbsp orange zest
1 tbsp fresh-squeezed orange juice
¼ tsp salt
Horseradish Sauce Instructions
Mix all ingredients together until the desired flavor.
Au Jus Ingredients
Fat drippings from prime rib
4 cups beef broth
2 tbsp red wine
1 tbsp Worcestershire sauce
Salt and ground black pepper to taste
Au Jus Instructions
Put all ingredients in the roasting pan underneath the prime rib, once done, transfer to a bowl and serve!