Supply shortages and manufacturing delays have caused the industry to re-evaluate the way we order products. This year, we have an allocation of pools on order, divided up among the different sizes available. After we sell these pools, we are unable to order more for 2022. If you are thinking about having an above-ground pool this year, now is the time to call to make sure you reserve a pool and spot on the installation list.  We have 3 models available in different sizes (The number of different sizes for each model that we have left is varied and limited. Call for availability.)
Quantum (The Hybrid)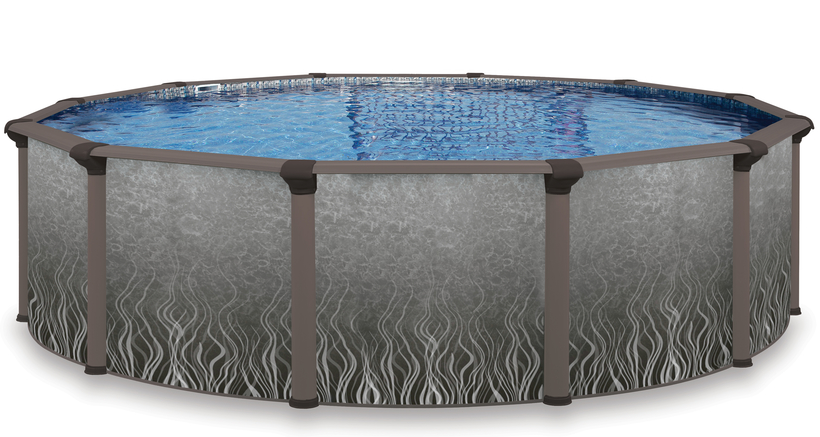 A Quantum above ground pool brings unique style and beauty to your yard with design-inspired walls. Color-coordinated posts and top ledges add a graceful touch. This look complements any backyard and any taste. And this new Quantum pool looks beautiful year after year, while it adds value to your lifestyle.
The Quantum pool stands up to whatever kids can dish out, while it handles any weather with ease. Our extruded 7˝ resin ledge resists weather, water, and wear. Durable 6˝ steel upright posts with unique interlocking resin caps and resin foot collars give the whole package strength, support, and style. Galvanized steel frame components have polyester paint finish and Krystal Kote® sealant to provide years of lasting beauty and quality. Heavy-duty tracks, oversize connectors, and oversize fasteners add strength for a pool that will last for summers to come.
Dynasty (Heavy Duty Resin)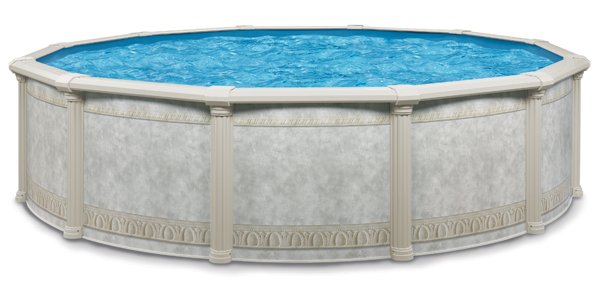 The Dynasty above ground pool is designed and built to the highest standards in the industry. The 52″ Dynasty is carefully crafted to provide years of problem-free enjoyment.
Resin and steel components form the solid integrated structure of the Dynasty- the wall, frame, and sub-frame. The sturdy khaki-colored pool frame consists of a wide 8″ extruded resin ledge coupled with a 7″ extruded resin post and topped with a 3 piece injection molded resin cap and post collar. The sub-frame features a strong extruded resin bottom track with injection-molded resin lower post collar and bottom connector. With the addition of one of many colorful liner designs, you're set to enjoy a superior pool for years of worry-free family fun!
Tamara (The True Radius Round)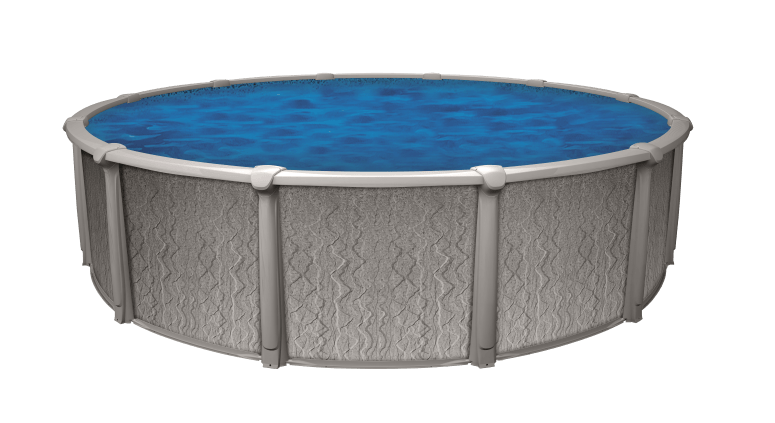 When it is hot outside, nothing beats wading in the cool waters of your above ground pool. Resin Pools by Swim Above Ground bring you innovative technology and incredible endurance that will win your heart as the ideal fusion of high technology and impeccable style. Resin injection molding is a revolutionary process that eliminates corrosion risks and guarantees long-term dependability. Transform your backyard into an everyday vacation!