There's nothing more comforting on a cold, lazy day than ooey-gooey baked mac and cheese. Use some of your Thanksgiving leftovers for this delicious Smoked Turkey mac and cheese.
Smoked Turkey and Cheddar Mac & Cheese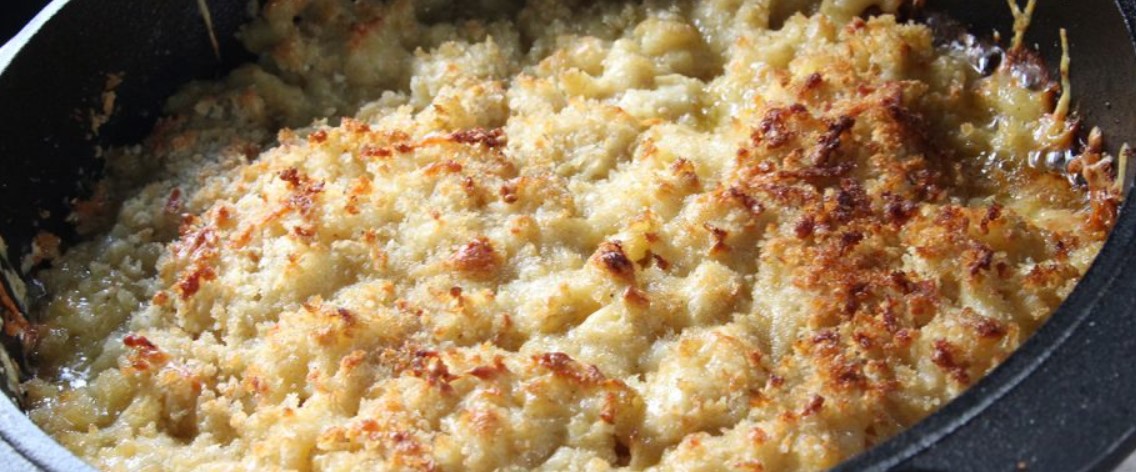 Ingredients
3 cups whole milk, divided
3 tbsp all-purpose flour
1 cup shredded Gouda cheese
2 cups shredded smoked cheddar cheese, divided
1 ½ teaspoons dry mustard
½ tbsp paprika
¼ teaspoon kosher salt
¼ teaspoon ground pepper
1 (1-pound) package elbow macaroni, cooked according to package directions
4 cups pulled turkey, divided
2 tbsp chopped green onion
Instructions
Set the EGG for indirect cooking with theconvEGGtor to 500°F/260°C.
Bring 2¾ cups milk to a low boil in a large pot on the stovetop. Reduce heat to medium-low.
Whisk together flour and remaining ¼ cup milk in a small bowl until smooth. Using a whisk, gradually add flour mixture to hot milk until thickened, about 2 minutes.  Slowly add the gouda, 1½ cups cheddar cheese, dry mustard, paprika, salt and pepper, stirring until cheeses are melted. Remove from heat.
Place cooked pasta and 3 cups of the turkey in a Dutch oven. Pour the cheese sauce over the pasta; top with remaining turkey and remaining cheddar. Bake until cheese is melted and pasta mixture is lightly browned, about 5 minutes. Sprinkle with green onion and serve warm.
Serves 6 to 8